IRH-15C Infra red wirelss handheld


Feature
The perfect handheld "pass-around" microphone for student participation, this dual channel microphone/transmitter, operates on the channel that the teacher is not using. It is powered by two "AA" batteries (alkaline or rechargeable) and is compatible with all Azden infrared models.

Both the IRN-10 and IRH-15c can recharge internal NiMH batteries when a BC-29 wall-charger is used. There's no need to remove the batteries to recharge.


THE ADVANTAGES OF INFRARED

Infrared wireless microphone systems are the best solution for classrooms. In today's RF saturated world a regular (VHF or UHF) microphone system risks interference from a variety of other devices and sources. Cell phones, radios, TV, PA systems, police and emergency service systems, etc., can all interfere with VHF and UHF, but not with IR. Furthermore, infrared is perfect for classroom audio, since, unlike the other systems, IR is short-range, cannot penetrate walls, and is line-of-sight. This means that a school can have as many classrooms as desired with individual audio systems, without fear of in-terference. Since the Azden system is dual-channel, the teacher can have one micro-phone and a second person can also have a microphone. In addition, since each class-room system is on the same pair of channels, teachers can go from room to room with-out having to switch microphones.
Specification
Sub-carrier frequencies
2.06MHz & 2.56MHz switchable

Modulation
FM

Microphone element type
Uni-directional dynamic

Frequency Response
50-8kHz ±3dB

Battery type
2 "AA" alkaline( 1.5V x 2 ) or
2 "AA" rechargeable Ni-MH (1.2V x 2 )

Battery life
> 6 hours w/alkaline batteries

Dimensions
φ58 × 240 mm

Weight
258 g
9.1 oz
w/alkaline batteries
Optional Accessories


AMC-3
Microphone Charger
(Up to 2 pcs)


AMC-06
Microphone Charger
(Up to 6 pcs)


AMC-12
Microphone Charger
(Up to 12 pcs)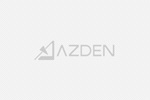 ASP-20501
Ni-MH batteries (2pcs/set)