2.4 GHz WIRELESS
MICROPHONE SYSTEM
The PRO-XR is a new kind of 2.4 GHz digital wireless microphone. Using several new technologies, it avoids the line-of-sight dependency and congestion problems that plague traditional 2.4 GHz wireless, resulting in an reliable wireless microphone.
Easy-to-use, compact and lightweight, the PRO-XR is perfectly suited for video creators of all types. Whether you shoot with a DSLR camera, mirrorless camera, cinema camera or mobile device, the PRO-XR can deliver high-quality and dependable wireless audio for your videos.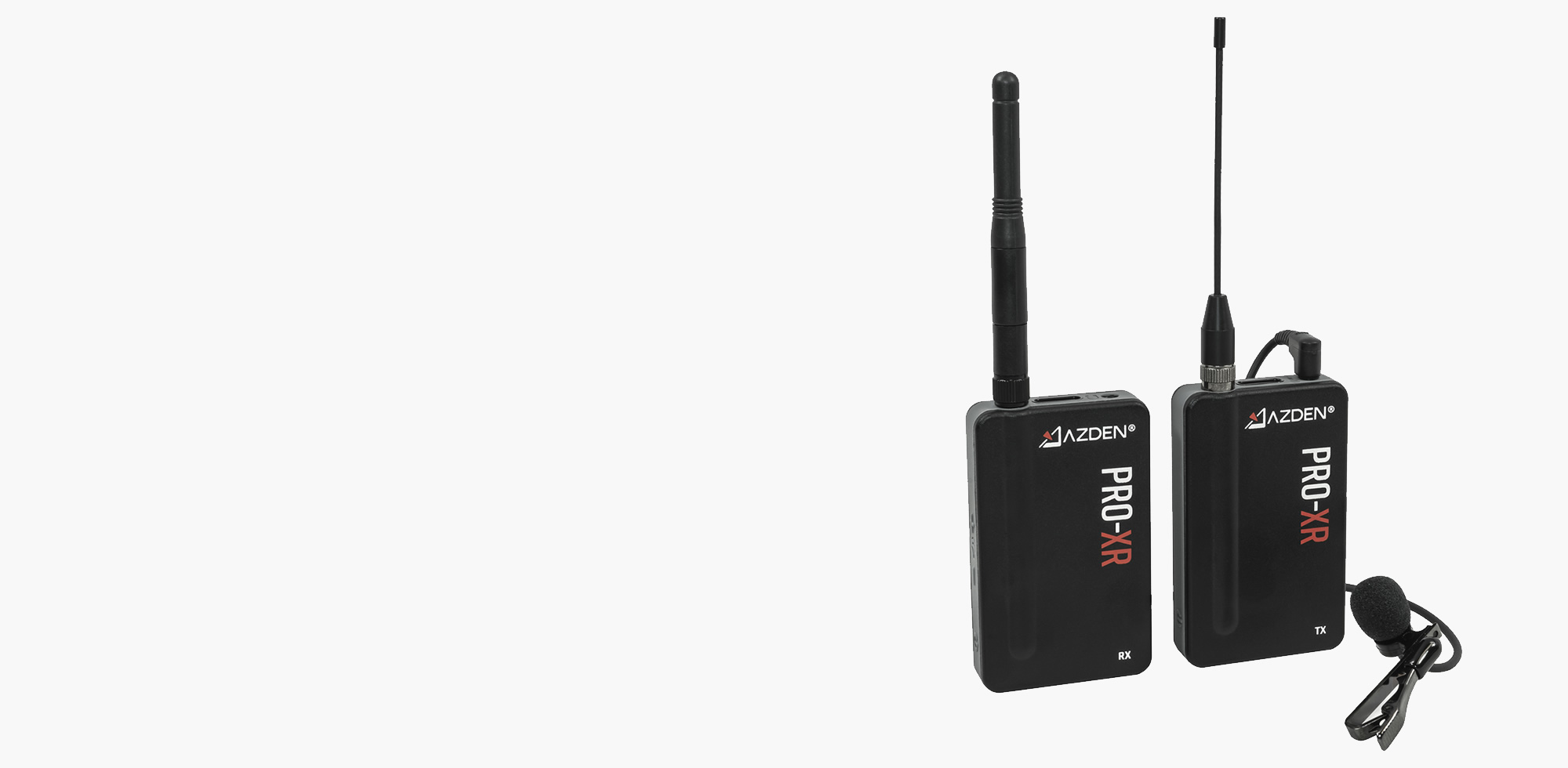 Frequency Spectrum Auto-Scan
Once powered on, the PRO-XR automatically scans the 2.4 GHz frequency spectrum and selects the best available frequencies to use for its connection, thereby avoiding interference-prone frequency bands.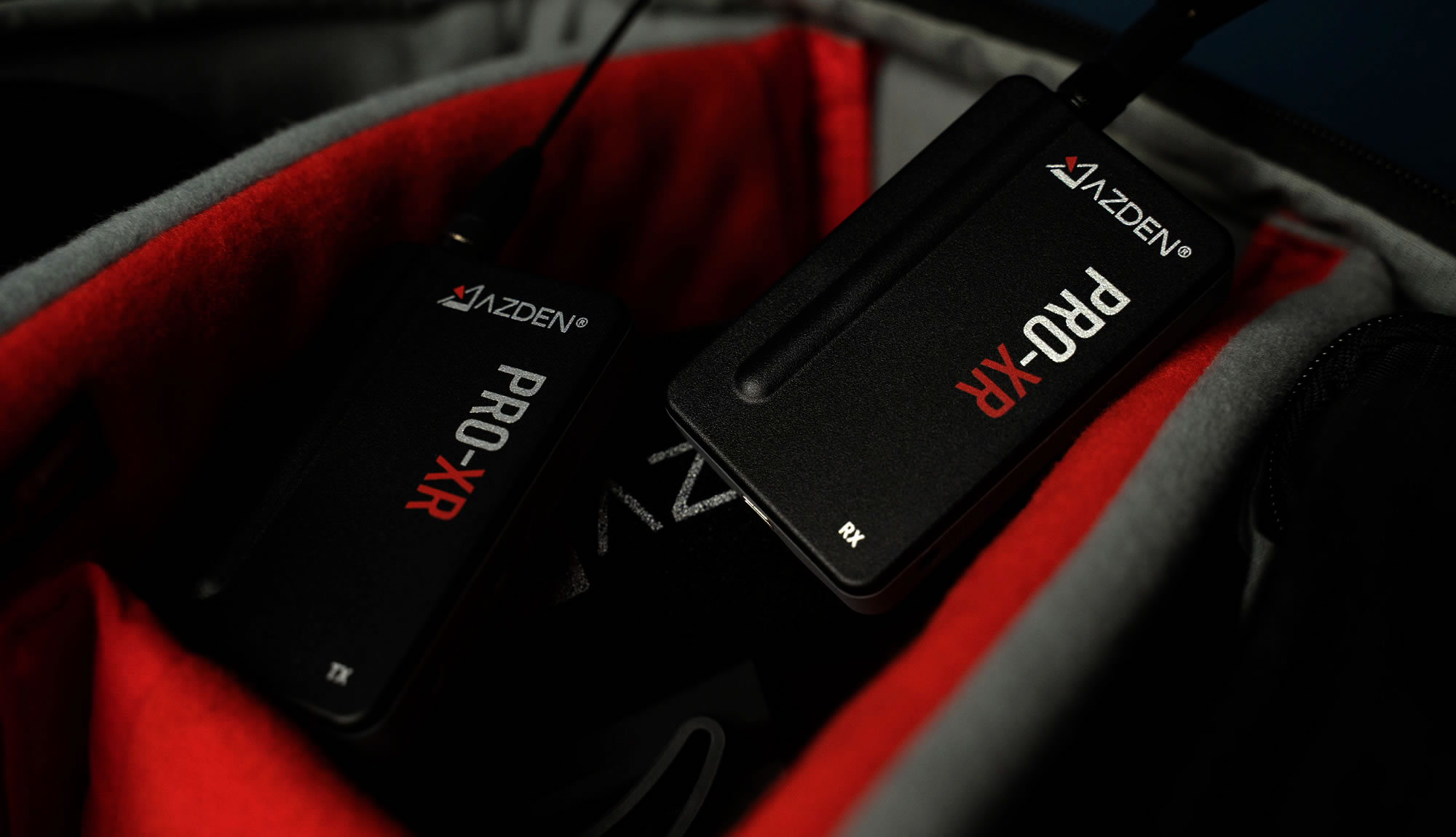 Automatic Interference Avoidance
The activity of 2.4 GHz devices in a given area can change frequently and rapidly. That is why the PRO-XR constantly monitors this range and automatically and seamlessly changes its transmission to use different frequencies when it detects the possibility of interference.
Signal Redundancy Technology
Further fortifying the system's resistance to interference, PRO-XR employs Azden's proprietary Signal Redundancy Technology, in which the transmitter sends three copies of its signal to the receiver at all times, each on a different frequency. If the system predicts interference of the primary signal, it will instantly switch to using the secondary signal without any interruptions.
External Antenna Design
While many other digital wireless systems are moving to under-performing internal antennas, the PRO-XR system employs a more reliable external antenna design and comes with two interchangeable antenna options for the transmitter: a flexible antenna for comfortable and inconspicuous wearing of the transmitter, and a high-gain antenna for increased performance especially at long distances and with line-of-sight obstruction.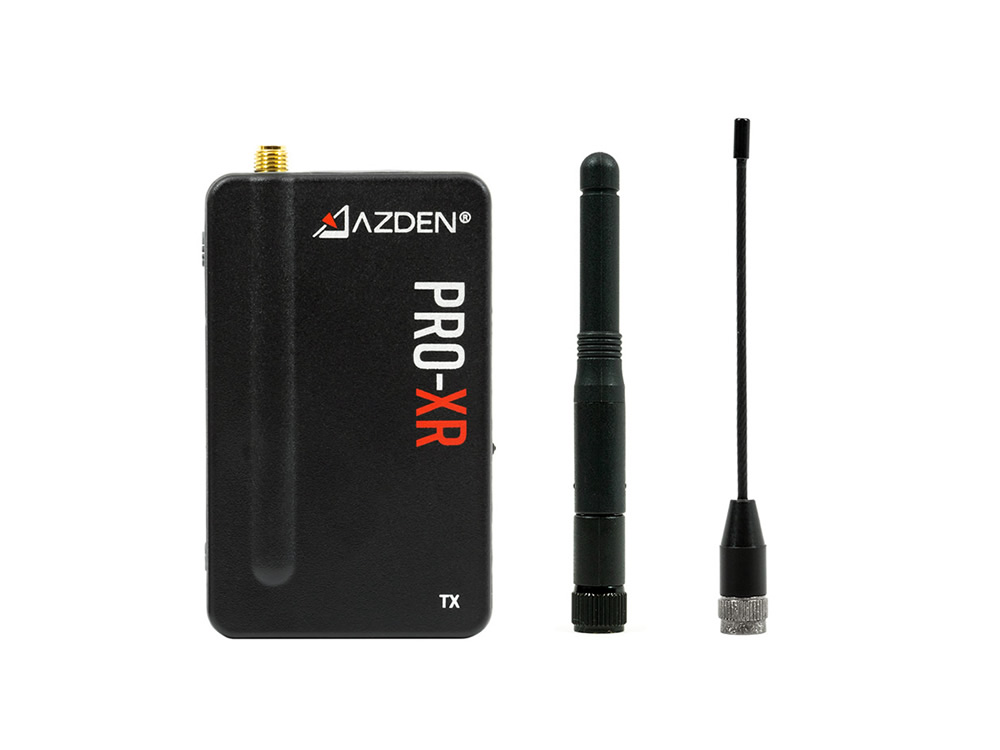 When placing the transmitter behind a person's back, bend the high-gain antenna away from the person's body at a 45º angle for better wireless performance.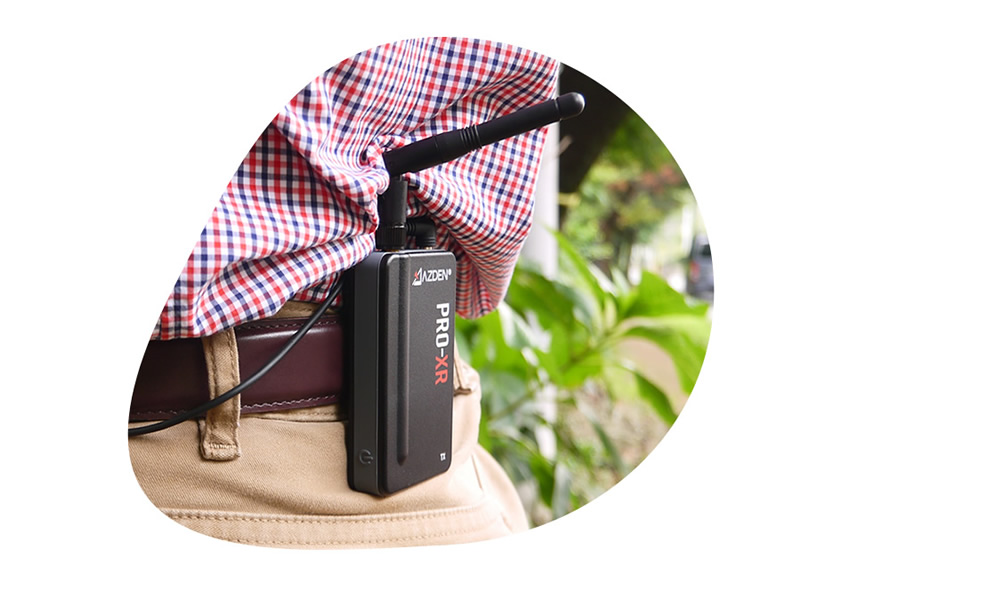 Rechargeable Batteries
The built-in, rechargeable lithium-ion batteries provide up to 21 hours of run time on the receiver and 15 hours on the transmitter; plenty of power for a long day of shooting. The newly adopted dual-USB charging cable allows you to charge transmitter and receiver batteries simultaneously for full charging in 2.5 hours.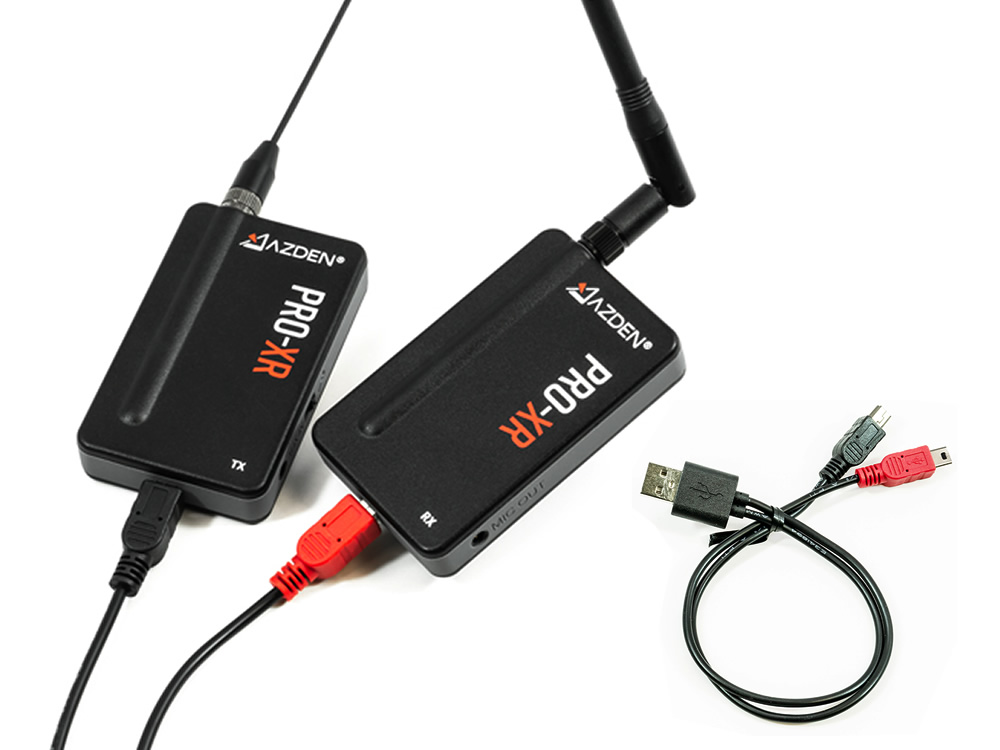 4-Step Battery Status Indicator
The battery status can be checked at a glance.

*When the TX is turned on, it will show a GREEN light for about 30 seconds before changing color to indicate the battery status.
Included Lavalier Microphone EX-507XR
The professional-grade, omni-directional lavalier microphone captures the full frequency range of 20 Hz to 20 kHz, ensuring crisp and clear recording of your subject's voice. The angled 3.5 mm TRS plug allows compatibility with many other wireless systems and recorders.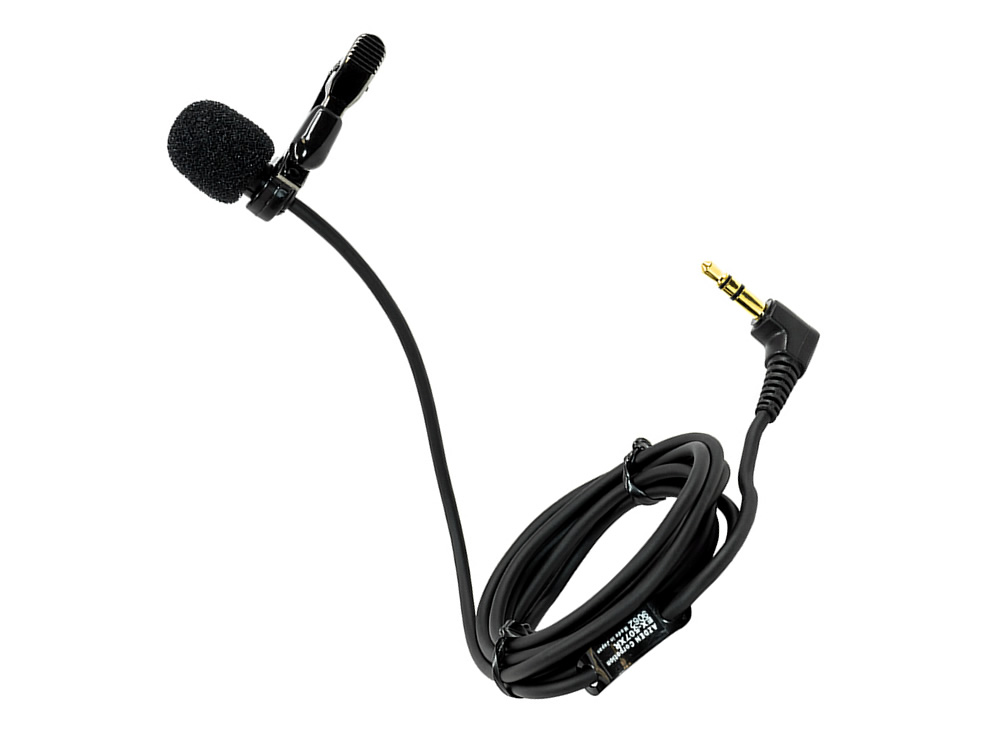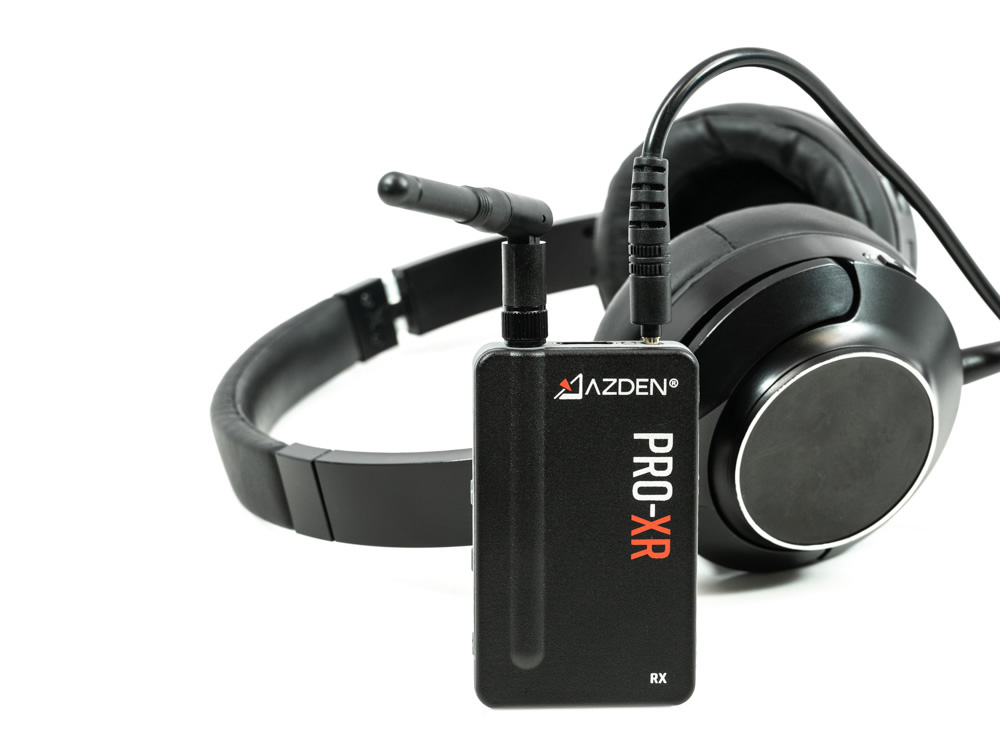 Volume Control and Monitoring
The receiver includes a 3.5 mm headphone jack for monitoring, and a 6-step adjustable output gain control for optimizing audio levels with your camera.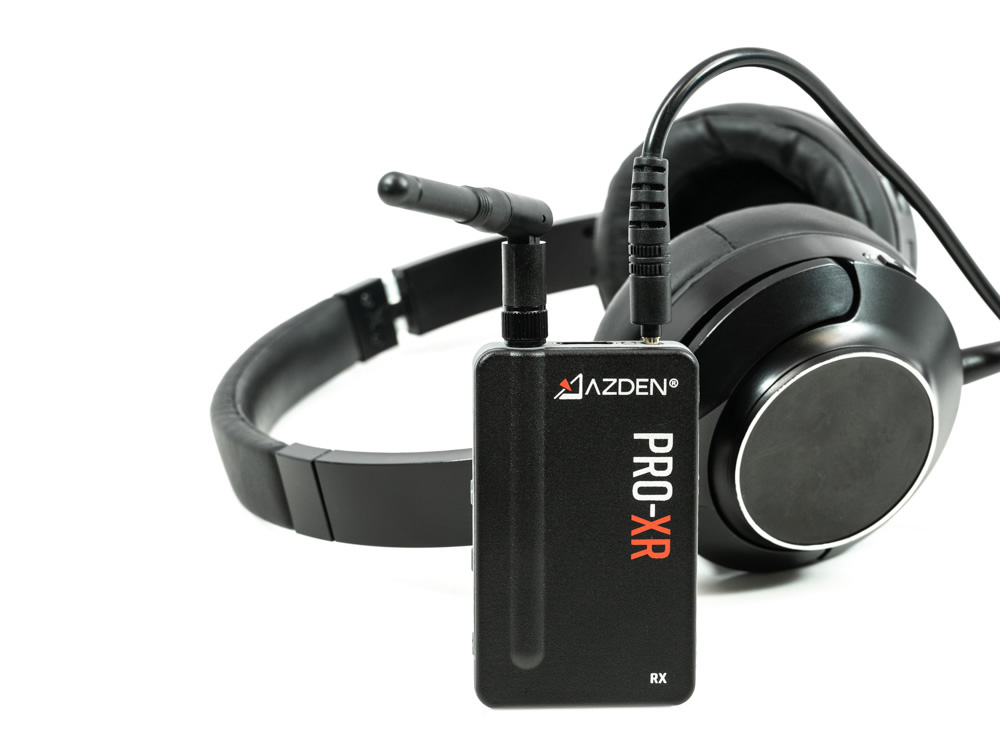 Line-In Auxiliary Input
For extra flexibility, the transmitter allows for the connection of mobile devices via the 3.5 mm auxiliary input.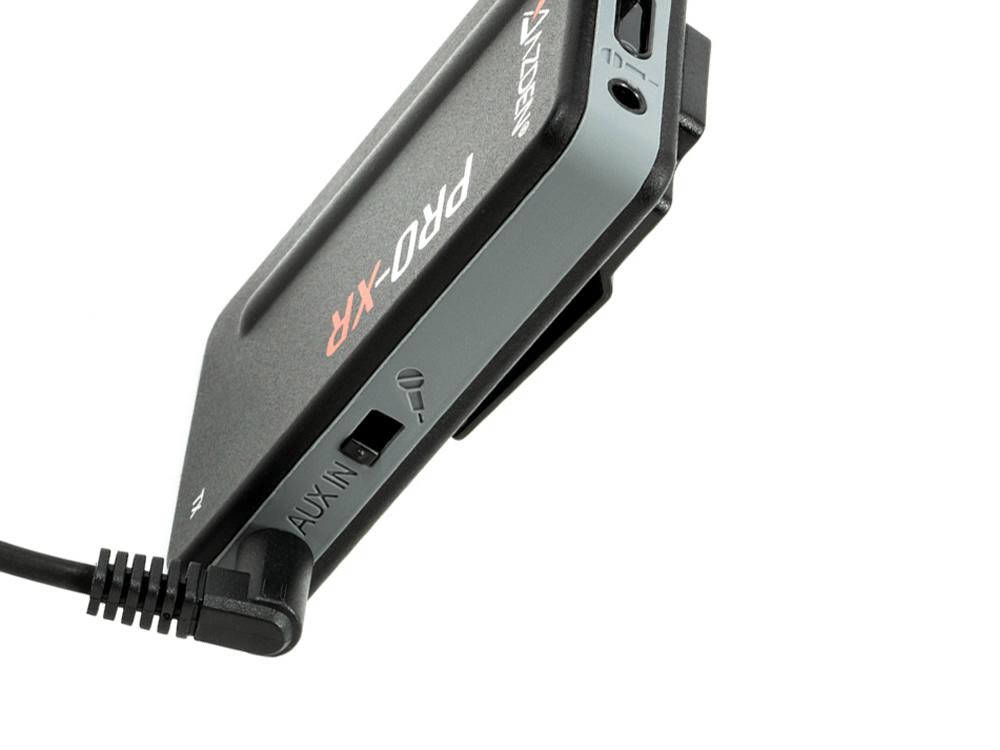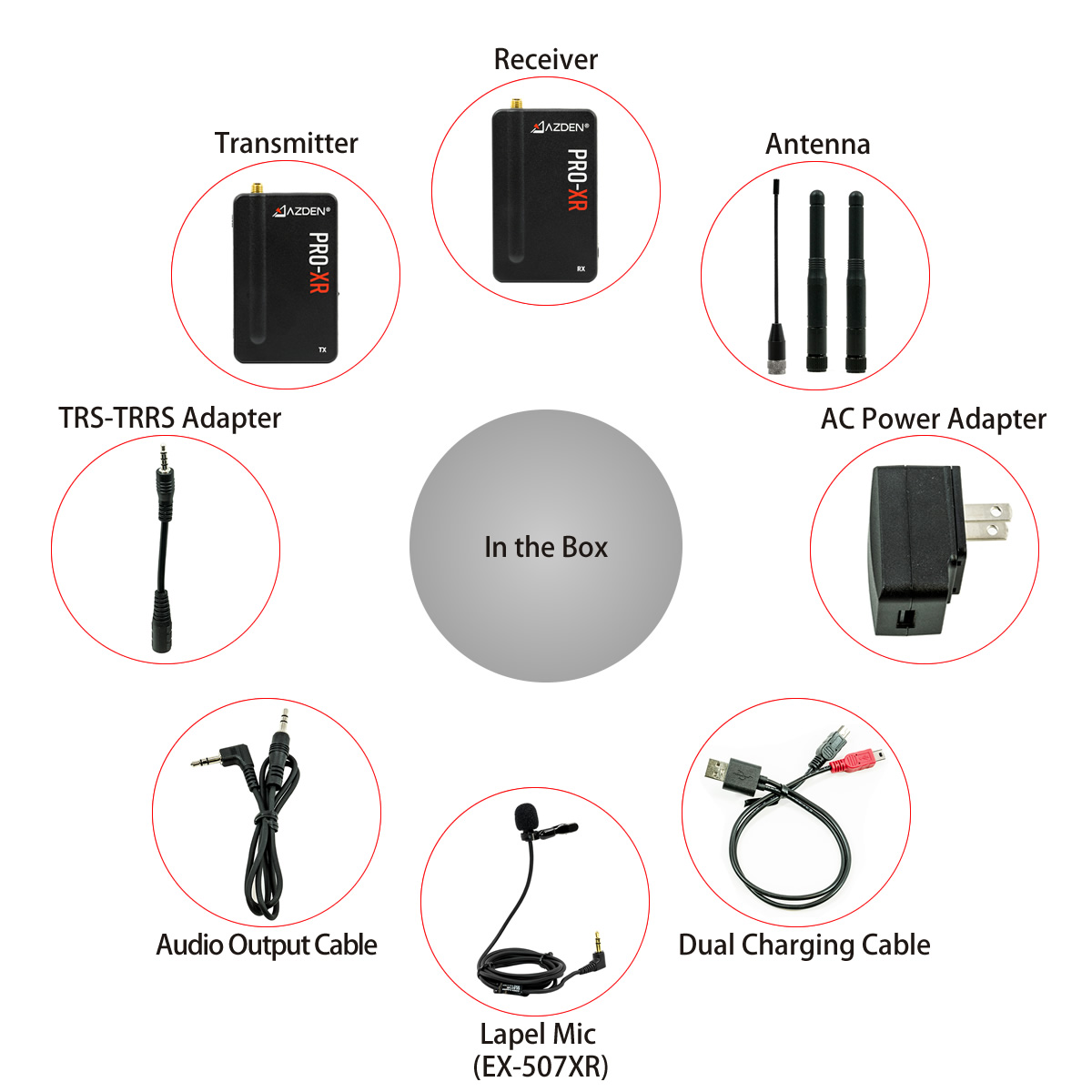 Specifications
PRO-XR
Operating Frequency

2.4 GHz ISM Band
Signal To Noise Ratio

86 dB
Dynamic Range

MIC: 90dB / AUX: 87dB
Operating Range

Up to 50m in optimal conditions
Frequency Response

MIC: 60 Hz – 20 kHz
AUX: 30 Hz – 20 kHz
Bit Rate

384 kbps
System Latency

6.8 ms
Battery Life Span

500 cycles
Battery Type

Lithium-ion, 3.7 V, 1200 mAh, 4.44 Wh
Power Supply

USB 5V
RECEIVER (PRO-XRR)
Max Output Level

1.5 dBV
Mic Output

Φ3.5 mm dual-mono TRS
Headphone Output

Φ3.5 mm dual-mono TRS
Output Impedance

Mic: 2 kΩ / Headphone: 10 kΩ
Battery Life

21 hrs
Charge Time

2.5 hours
Dimensions

48 x 79 x 14 mm (W/H/D)
Weight

76 g
TRANSMITTER (PRO-XRT)
RF Output Power

10mW
Mic Input

Φ3.5 mm mono TRS
Aux Input

Φ3.5 mm summed-mono TRS
Input Impedance

MIC: 9.1 kΩ / AUX: 100 kΩ
Max Input

MIC: -22 dBV / AUX: -2 dBV
Battery Life

15 hrs
Charge Time

2.5 hours
Dimensions

48 x 79 x 14 mm (W/H/D)
Weight

65 g
MICROPHONE (EX507-XR)
Mic Element

Electret Condenser
Polar Pattern

Omni-Directional
Frequency Response

20 Hz - 20 kHz
Sensitivity

-38 dB @1 kHz, 0 dB=1 V/Pa
Impedance

2.2 kΩ @1 kHz
Power Requirement

Plug-in power DC 1-10 V
Connector Type

Φ3.5 mm TRS
Cord Length

1.2 m